The city inspire him ....but he takes it much further away.
He is flying and looks at the city from high in the sky with that mechanical look, that circular look that his anamorphosis reveal us…
"Charles Maze is the photographer who soars to ever greater heights to better observe us from on high. He whirls, scans, circles in his imaginary rings. "
Here, the world is upside down, with no above, no below. Just fullness. Absolute."

Evocation of the labyrinths where pilgrims once purified their minds in the cathartic spirals of the marbled floors of the gothic cathedrals, the benevolent spirals that Charles Maze calls anamorphosis take the viewer through their visionary twirls. »
"Charles draws us down to the bottom of a deep well where we discover a new world devoid of darkness and shadow. Where all is pure light playing with reality, restoring the wonder of life." Alba Romano Pace writes.
He enchases Paris as a nuget, he offers the suburbs the luxury of abstraction, he twirls Swann Island, makes a silk handkerchief out of his windows, he strips Hudson River and fills Avenue Bosquet with poetry…
Photo credit: Charles Maze
to see more: http://www.charlesmazephoto.com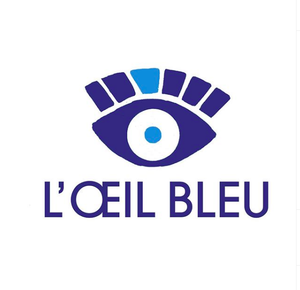 A SUIVRE LA GALERIE L'OEIL BLEU
RUE N.D DE NAZARETH PARIS
#LEVIRUSDELACREATION
Archives
▶

2020

May 2020

Mar 2020

Jan 2020

▶

2019

Nov 2019

Sep 2019

Jul 2019

May 2019

Mar 2019

Jan 2019

▶

2018

Dec 2018

Sep 2018

Jun 2018

Apr 2018

Jan 2018

▶

2017

Nov 2017

Sep 2017

May 2017

Mar 2017

Jan 2017

▶

2016

Dec 2016

Nov 2016

Oct 2016

Sep 2016

Aug 2016

Jul 2016

Jun 2016

May 2016

Apr 2016

Mar 2016

Feb 2016

Jan 2016

▶

2015

Dec 2015

Nov 2015

Oct 2015

Sep 2015

Jul 2015

Jun 2015

May 2015

Mar 2015

Feb 2015

Jan 2015

▶

2014

Dec 2014

Nov 2014

Oct 2014

Sep 2014

Jul 2014

Jun 2014

May 2014

Apr 2014

Mar 2014

Feb 2014

Jan 2014

▶

2013

Dec 2013

Nov 2013

Oct 2013

Sep 2013