First, the reconnaissance… and then the shooting, this is how Didier GERMAIN first reads the place. A plastic photographer who has been working for twenty years in an Architecture Agency, he has got a well trained eye…
What is he looking for in the city ? Its superpositions… Those superpositions that belong to the place itself will start the job and then inspire Didier Germain's work.
The next stage, he calls it his « second reading », when he starts a deeper analysis, when the place discloses its secrets, when Didier identifies what has to be transformed.
Then comes intervention, time for action, time for magic…
He explains :
« My work on landscapes since 2003, is halfway between plastic photography and digital painting (almost mechanical). I use something close to documentary picture but my post-shooting interventions, close to geometric abstraction, only address to the feeling.
The plastic elements of the picture get rid of their figurative and representative aspect and start living their own lives far away from the initial picture. They strengthen the idea of a bursting hybrid world as well as they guide the eye through a tour in the maze of the image, almost in the maze of the world.
Banality is transfigurated and finds a new echo in the spectator's mind, he is surprised and discovers a world far away from daily life.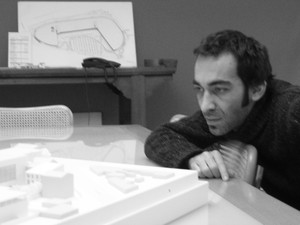 DIDIER GERMAIN IN TWO WORDS
s
Didier first started in the very intimate world of Interior Design , but he keeps enlarging his scope of intervention and now he manages two complex and long-term operations at Jard Brychcy Architecture.
A precise, reliable, methodical and much respected professional, he fully expresses all the richness of his sensibility and imagination trhough his personal work.
The lightness of his transfigurated landscapes, the suspended elements, the explosion of colours, he reveals them in total abstraction.
MAIRIE DE MONTREUIL-2011 à 2013 (Montreuil City Hall– metro station)
« A place under transformation, the City Center around Montreuil City Hall, my daily lot to go to my studio of Paul Signac former fabric.
Catching an ephemerous moment, just after demolition the parking is opening to the sky, right before reconstruction.
An almost deserted ghetto gives place to a cultural equipement with Cinemas, Housing, a Theatre, a Center for Performing Arts and a Commercial Center.
This transformation is the interesting point. »
Series of 10 independent pannels : small size 45X60env prints 1/5 ex on plexi
Panoramic : large size 120X50env prints 1/5 on aluminium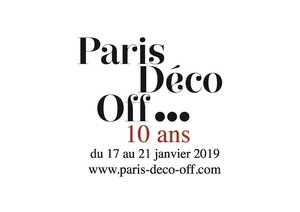 Les Editeurs de tissus d'ameublement vous recoivent à Paris
dans leurs showrooms
du 17 au 21 Janvier 2019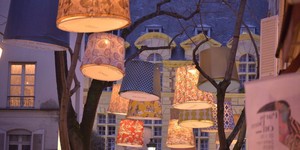 Archives
▶

2019

▶

2018

Dec 2018

Sep 2018

Jun 2018

Apr 2018

Jan 2018

▶

2017

Nov 2017

Sep 2017

May 2017

Mar 2017

Jan 2017

▶

2016

Dec 2016

Nov 2016

Oct 2016

Sep 2016

Aug 2016

Jul 2016

Jun 2016

May 2016

Apr 2016

Mar 2016

Feb 2016

Jan 2016

▶

2015

Dec 2015

Nov 2015

Oct 2015

Sep 2015

Jul 2015

Jun 2015

May 2015

Mar 2015

Feb 2015

Jan 2015

▶

2014

Dec 2014

Nov 2014

Oct 2014

Sep 2014

Jul 2014

Jun 2014

May 2014

Apr 2014

Mar 2014

Feb 2014

Jan 2014

▶

2013

Dec 2013

Nov 2013

Oct 2013

Sep 2013